Hours
Courtenay Medical Clinic
Mon: 8:30 – 17:00
Tues: 8:30 – 17:00
Wed: 8:30 – 17:00
Thurs:  8:30 – 17:00
Fri: 8:30 – 17:00
Sat: CLOSED
Sun: CLOSED
Address
Courtenay Medical Clinic
788 Grant Ave Courtenay,
British Columbia, Canada V9N2T3
Our Mission
Courtenay Medical Clinic
Our clinic's physicians, nurse and staff are committed to provide excellent care and are dedicated to ensure good health with you as our partner
Corona virus (COVID19) pandemic - Medical Mask Mandatory when entering the Clinic.
We will remain open during the pandemic to all other medical illnesses. We've got your back. We want to keep our office safe and available to all patients who need us. We also need to protect other patients who are in the clinic and our staff and physicians so they can continue to care for you.
Please do not come in if you think you have a corona virus infection or a cold or flu. Phone 1-888-COVID (1-888 268 4319).
You can also do an online corona assessment at https://covid19.thrive.health.
Alternatively you can call our office or 811 for advice.
If you are extremely short of breath, call 911 for an ambulance.
At the height of the pandemic we may just have a skeleton staff. We anticipate that our physicians will work at the hospital as needed to treat those who are most ill. We will still man our office. Pharmacies will also remain open.
Our clinic will offer telephone consultations for most medical issues to keep you safe and at home as far as possible.
We will book those into the appointment schedule just as we do regular office visits. If your own physician is at the front line at the hospital one of the other clinic physicians or locums will be available to help you. For those patients who will need in person assessments or procedures we want to create a safe waiting room by limiting the number of people present. We will continue to do home visits on bed bound and end of life patients. We cannot do home visits for anybody else.
When we see you for an in person visit or tele-visit please focus on the most urgent issue at hand.  Most specialists will conduct tele-health visits and testing e.g. labs, radiology and other tests will be very limited during the pandemic, we will directly fax all requisitions to the lab of your choice and imaging requisitions to the hospital. Presciption refills will continue to still be booked over the phone and faxed to your pharmacy.
During the pandemic our evening clinics will be closed.
Please consult our COVID-19 Safety Plan for more information.
Testing
Recommendations regarding swabs are changing weekly. Swabs have specific functions and it is important in the beginning to track the spread of the illness. As time goes and the infection spreads, only very ill patients may be swabbed as well as healthcare staff to make sure they are clear before they return to work.
Treatment
The majority of all people (60-80%) will get infected. Fortunately, the majority will have mild symptoms only and can safely recuperate at home without any medical attention. The main symptoms are fever, cough and shortness of breath. This is treated at home with self isolation, rest, fluids and acetaminophen (Tylenol) for fever.  There are no other effective medications or miracle cures. It may not be easy to tell the difference between a cold, flu or corona in the beginning. You should stay at home either way until you are well (if clearly a cold or flu) or for a full 14 days (corona infection or if you are not sure). If you are not sure, call us for a phone appointment. Those who take ACE-inhibitor blood pressure tablets do not have to stop it as it does not increase risk.
Protecting others
Pretend you have it and are trying to prevent spreading it to others.
The main focus at present is to limit the spread in our community, so the infection can spread as slow as possible. This will ensure healthcare staff can attend to those that are very ill as it unfolds. If the spread happens rapidly our resources may be overwhelmed (e.g. not enough hospital beds) and more people can die. If the hospital is overburdened we cannot take care of other things either – car accidents, injuries, other infections and even illnesses such as stroke and heart attack. It will impact all ages.
The risk of death is highest in older people. There is an estimated 15% risk of death in people over age 80. Ages 70-79 face an 8% risk of death.
Ages 60-69 have a 4% risk of death. In addition to that the following chronic illnesses add to that risk e.g. cardiovascular disease (10.5%), diabetes (7.3%), chronic lung disease 6.3%, hypertension 6% and cancer 5.6%. Young, previously healthy people have died in China and Italy. It is up to all of us to keep everybody safe by following precautions. It is called flattening the curve to slow the spread.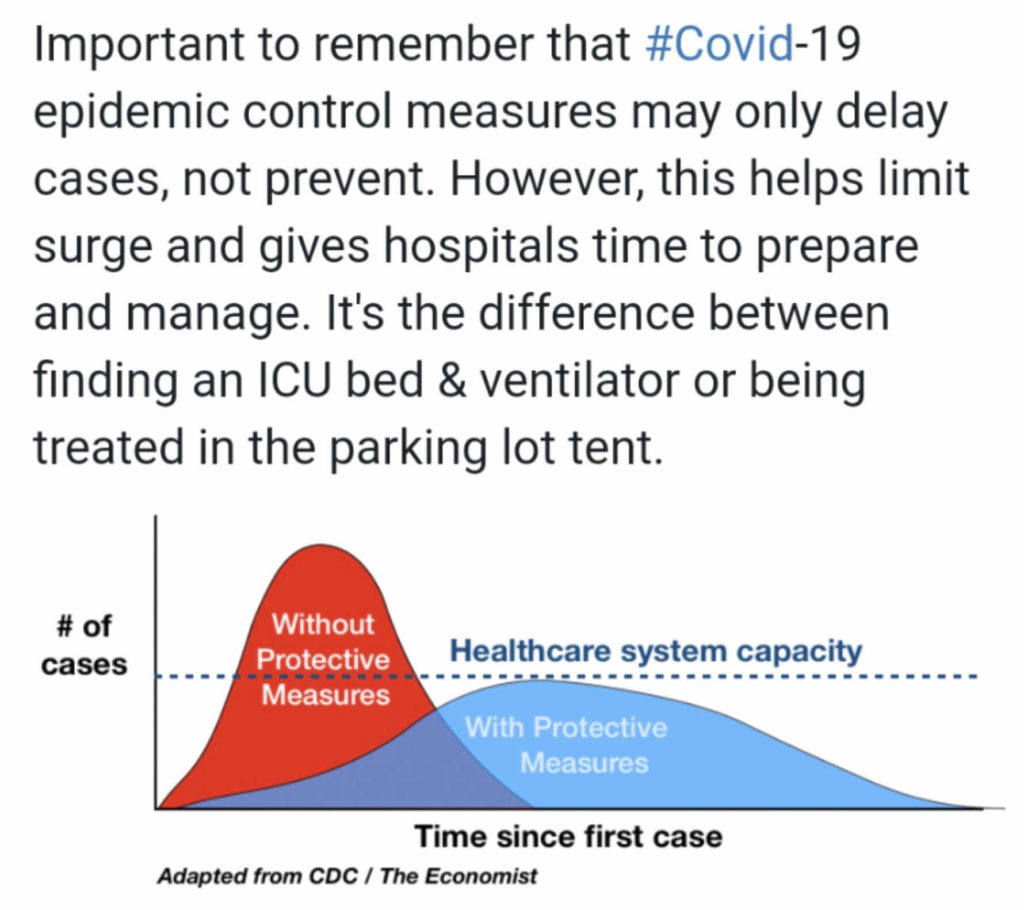 What can you do?
Stay at home. Practice social isolation. Only go to the shops to get necessities. Stay 2-3m away from other people. Don't panic. Don't hoard -we all need to share supplies. Don't take supplies from medical offices – we need it to take care of all our other patients. We have very limited supplies and are running very low already and our suppliers are out of stock. Our doctors have to pay for it personally. There is no magic funding or government handout.
Wash your hands with soap. Often and for long enough to sing the ABC. Hand sanitizer is good too, but nothing beats soap.
Cough into your elbow. Don't touch your face.
Coughs or colds
All patients who have a cough are expected to put on a mask before entering the waiting room. Apply hand sanitizer. Let us know when you book your appointment that you have a cough so we can check that you do not possibly have a corona virus infection – there are other steps to then take to care for you .
If you misrepresent your symptoms and see a physician without giving them the chance to protect themselves from infection and in the process endanger other patients in the waiting room and our staff, this can be considered a form of assault and we may dismiss you from our clinic.
New patients
At this time Courtney Medical Clinic is not taking  on new patients. It has however be suspended during the COVID period. 
Flu vaccinations and clinics
Please call our office to book your 2020 Flu vaccine appointment. Our first clinic is on 24 October 2020. 
Dr. Law's Retirement
Courtenay Medical Clinic Doctors Law, Swanson, Daws, Lamykina, and Macleod, along with our staff would like to welcome Dr. Nakhla.
After 26 years, Dr Law will transition his medical practice to Dr. Nakhla in Sept 2021 and will work as a locum at the Clinic. Dr. Law would like to thank his patients and the community.